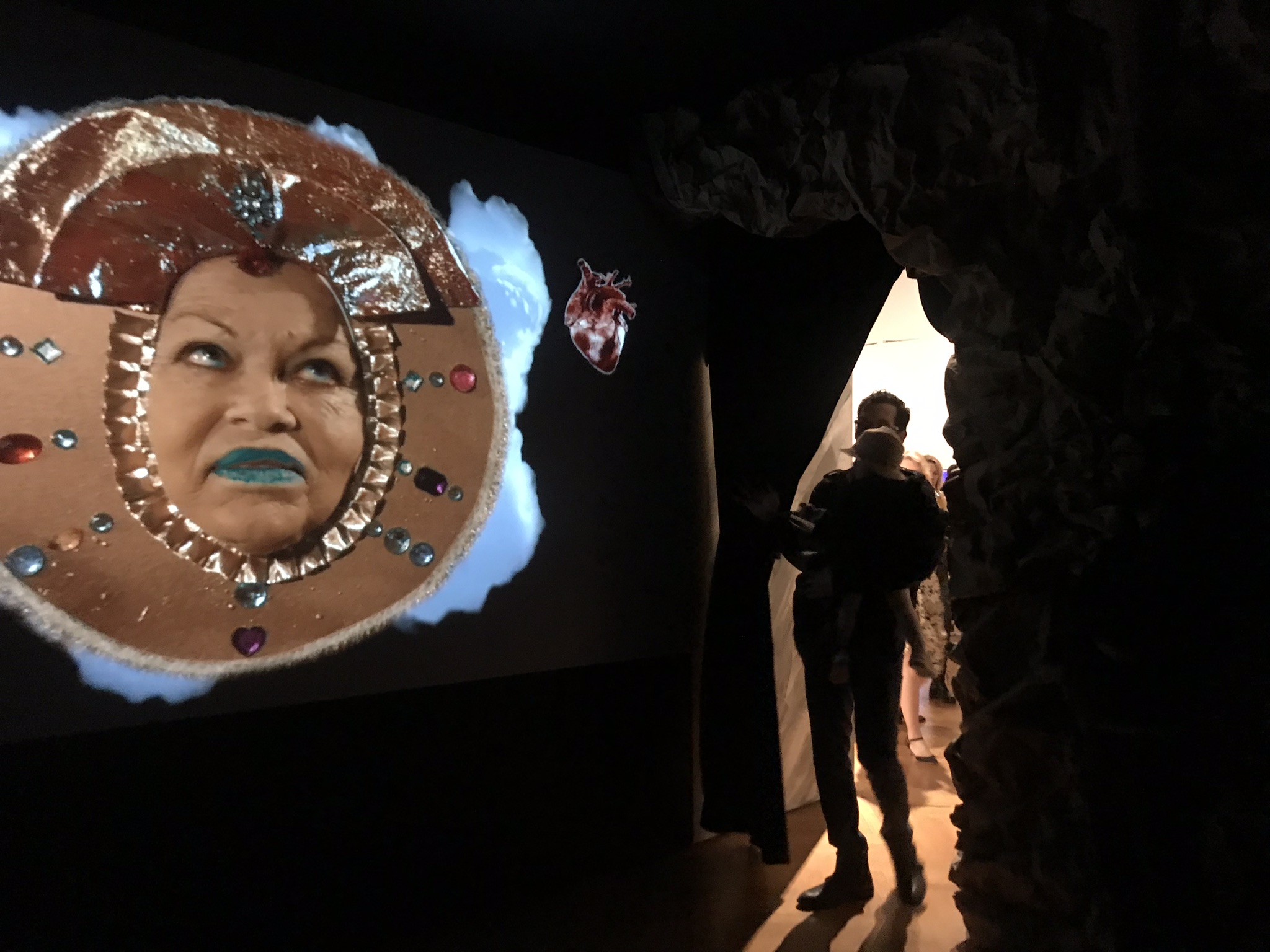 As Above, So Below
In this video and mixed media installation a series of music videos play on cave walls while a karaoke machine sits atop ancient ruins, inviting viewers to participate in a sing-a-long manifesto.
Installation view of 'As Above, So Below.' Participants are shown singing to Spell for Knowing (Karaoke Version). Spell for Knowing calls into questions one's personal set of morals by referencing The Feather of Truth- the story from the Egyptian Book of the Dead asking if one's heart is lighter than a feather-have you lived up to your truths? Is your heart lighter than a feather?This song and incantation spell asks the viewer/participant to sing along and consider the statements such as, "I have not silenced my sister's song."
The Vestibule
Throughout centuries during Greco-Roman times, people made pilgrimages to Oracular Caves, or, Caves of Oracles, in order to seek wisdom and advice. The Oracles were historically femme identified people who were revered for their wisdom, and in the most famous temple, The Temple of Delphi, the Oracles got high on hallucinogenic vapors before dropping their prophetic knowledge. (Geologists later identified the Temple to be built on a cross section of two fault lines which did in fact release poisonous gasses.)This installation is a reinterpretation of an Oracular Cave, one where femme priestesses hold all the knowledge in the universe.
Delphic Maxims magic 8 Ball
This iconic Magic 8 Ball toy/ Divination Tool is placed at the cave entrance so that viewers who make the pilgrimage to the cave may engage with their intuition and internal wisdom before entering.
This divination tool can be used as a mirror to reflect one's internal truth, speaking through the Delphic Maxims.
In times of political unrest the sales of tarot cards go up, and people turn towards mysticism and the occult for answers. Here are the answers.
Crown Your Ancestors
This iconic Magic 8 Ball toy/ Divination Tool is recreated with each side of the internal icosahedron die imprinted with a Delphic Maxim. The Delphic Maxims are sayings such as: Crown Your Ancestors, Think as a Mortal, Do Not Wrong the Dead, Admire Oracles, Chose What is Divine, Practice What is Just.
This Divination Tool is placed in the entry way to the cave so that the viewer may engage with their own intuition before entering. It acts as a moral compass.